FEAST OF OUR LADY OF GUADALUPE
The circumstances were dire. It was the sixteenth century and the Spaniards were conquering the land of the Aztecs violently. The Aztecs were known for their grotesque sacrifices which served to satisfy their bloodthirsty gods. At the same time, Franciscan missionaries were conquering hearts for Christ by proclaiming the Gospel of love.
A simple peasant man, Juan Diego, had just been converted to the Catholic faith. One ordinary day, walking across Tepeyac hill on the way to Mass, his heart was heavy thinking about the recent violence that had changed the spiritual landscape of his country.
I've known this story for a long time and have recounted it on multiple occasions, but recently it captured my spirit in new ways. Like Juan, I have often felt the burden of those whom I love, those whom the Lord loves. I have wondered about times when I feel nothing is happening and things just keep getting worse in the world around me. I wonder if Juan Diego had faith the size of a mustard seed? Did He trust God completely to move mountains? I don't know. What I do know though, is that he did not expect what was about to happen as he hiked to the other side of the hill. He had no idea how God would use him to change his world so dramatically.
Surprise from On-High
As Juan continued his trek, suddenly he began hearing the sweet singing of birds and strains of music. He looked up and there she was! A beautiful lady dressed as an Aztec princess, so tenderly calling his name in the most endearing way "Juanito, Juan Dieguito." He approached her attentively as she continued "Know for certain, least of my sons, that I am the perfect and perpetual Virgin Mary, Mother of Jesus, the true God, through whom everything lives, the Lord of all things near and far, the Master of Heaven and earth. It is my earnest wish that a temple be built here in my honor. Here I will demonstrate, I will manifest, I will give all my love, my compassion, my help and my protection to the people. I am your merciful mother, the merciful mother of all of you who live united in this land, and of all mankind, of all those who love me, of those who cry to me, of those who seek me, and of those who have confidence in me. Here I will hear their weeping, their sorrow, and will remedy and alleviate all their multiple sufferings, necessities, and misfortunes". From that moment on, Juan's life would never be the same again.
A Sign and Surprise
Juan took the message to the Bishop but was turned down. The Bishop requested him to go and ask "the lady" for a sign. That's exactly what happened at the final apparition when she asked Juan Diego to climb to the top of the hill and gather a bunch of Castillian roses in his tilma (a cloak made of cactus fibre). As he descended from the hill, the Blessed Mother arranged the beautiful roses and asked him to take them to the Bishop as the sign he asked for. Approaching the Bishop, Juan Diego rolled open his tilma to drop the roses in front of him. The Bishop fell to his knees followed by all those who were with him, as they beheld in awe a living image of the Blessed Mother on that tilma – a sign and surprise beyond anyone's imagination. The instrument – a poor peasant man who felt so little and unworthy, but willing to surrender and wait in hope.
God makes no distinction. He uses whom He chooses.
Mass Evangelization
A new Pentecost had begun. No wonder Saint Pope John Paul II gave Our Lady the title "Star of Evangelization".
For years until he passed away, Juan Diego's tilma with the living image of the Blessed Mother was on display where the Bishop built a Church in honor of Our Lady of Guadalupe. Juan Diego himself took care of it, allowing millions of people to come touch it and experience the tender love of a mother who gave them comfort and strength amidst life's difficulties. From all the amazing apparitions in the world, this is the only miraculous image that no human being had ever painted.
A Miracle in our midst
That fabric should have disintegrated in fifteen years, perhaps even sooner, given the way it was exposed. However, almost 500 years later, it remains intact, now framed and placed in the new Basilica where millions of people have gone on pilgrimage and continue to do so.
People from every professional strata have done research on the image, the paint, and the fabric. In 2001, Zenit news reported a 20-year study done by Engineer Jose Aste Tonsmann. What intrigued him most were the eyes of the Virgin. "Though the dimensions are microscopic, the iris and the pupils of the image's eyes have imprinted on them a highly detailed picture of at least 13 people," Tonsmann said. "The same people are present in both the left and right eyes, in different proportions, as would happen when human eyes reflect the objects before them." Tonsmann said he believes the reflection transmitted by the eyes of the Virgin of Guadalupe is the scene on December 9, 1531, during which Juan Diego showed his tilma with the image, to Bishop Juan de Zumárraga and others present in the room.
I had the opportunity of going to the Basilica many times in these years that I have lived in Mexico and have personally experienced that loving gaze. Her eyes continue to watch attentively over you and me.
Hope and Believe
Have you ever felt so little and like a nobody? Did you ever wonder what difference your life could make? In the secret of your heart have you felt helpless and hopeless? You are not alone. Juan Diego felt so little that he told the Blessed Mother to choose someone more important to go to the Bishop. I have also felt that way until I surrendered to the Holy Spirit who changed everything beyond my wildest imagination.
Dear friend, this Advent, God wants to surprise you by the power of His Holy Spirit. Advent is a time of waiting, of anticipating, of looking forward to His coming. As you wait in hope, give Him a chance to do His work by offering Him the person you are. Five loaves and two fishes are all He needed to feed the multitude. Plain water is what He transformed into the choicest wine. He uses the ordinary to bring about the extraordinary. He used Juan Diego to connect people to God… millions of them.
Choose to believe and choose to Hope in God who will do great things for you and through you.
Then you can join the Blessed Mother in saying "For He who is mighty has done great things for me. Holy is His name."
Yes, the people of that time needed something and God sent them someone, His own dear Mother. She also spoke these words to Juan Diego, "Am I not here who am your Mother. Why are you afraid and worried." Let us together entrust ourselves to her maternal cares.
We celebrate the feast of Saint Juan Diego on December 9 and the solemnity of Our Lady of Guadalupe on December 12.
Our Lady of Guadalupe, pray for us! Saint Juan Diego, pray for us!
ABOUT THE AUTHOR
---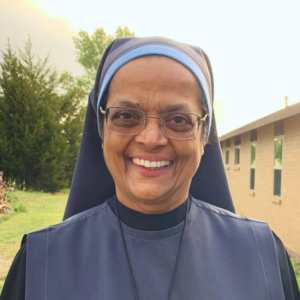 Sister Rita D'Souza has been serving in the Catholic Charismatic Renewal Movement since the tender age of 19. She received a call to religious vocation in 1985 and joined 'Disciples of the Lord Jesus Christ', a Franciscan Charismatic Religious Community in the United States. Sister Rita's raw passion for the Word of God and her heart for evangelization, unfolds through her teachings, where she captures beautiful stories bringing her listeners to an encounter with Jesus, the Light of the World.