BEYOND GOLD
The Golden Jubilee! Celebration time! Viva! Viva! What a peak moment of one's life it is! Be it the jubilee of one's age, state of life, career, or whatever… it generally comes with a sense of satisfaction and pride at the efforts put in and tasks achieved. Acknowledgement and celebration make it a glorious moment indeed!  One's fruitfulness is appreciated or perhaps even envied by some! There is a new bounce in one's step and a new warmth and strength in one's handshake! 'Congratulations!' is the oft heard word, and a smile the oft seen expression on the faces of those one meets.  Indeed one feels splendid about achieving what has been achieved.
Then just when you thought you had it all under control, the inevitable happens, a thought strikes at the door step of your mind…it is time to retire! Life is going to look a whole lot different and the era of things one did, now step into new realms. I am not sure I fully grasp the enormity of this big 60, but I am faced with its sobering reality – one has to move 'Beyond Gold' whether one likes it or not! 
Seeing Beyond Sixty
Beyond Gold – a period of pendulum moods between peace and panic, satisfaction at fullness and expectation of emptiness; joy over what has been, and uncertainty coupled with excruciating anxiety about what might be. At the approach of my 60th birthday and my entry into the seventh decade of my life, 'Seven – close to heaven' rang in the back of my mind like a death knell. Sure I had ruminated about this moment, but was startled by its reality when suddenly asked to hand over my responsibilities to a younger employee the very next day! It was IN for her and OUT for me! Truth be told, I know of people who have had cardiac attacks in such moments. 
The question arises: Is one now totally useless on this earth? It is a time when some have felt their lives crumble around them in pieces: no more daily schedules like before, the excitement of the workplace, chatting with friends to and from work, sharing news, views and 'dabbas' (lunchboxes), looking forward to weekends to relax. In addition there are physical intrusions, aches and pains, the empty-nest as children move out of home; the awareness of no steady source of income henceforward, so on and so forth. It is indeed a moment of loss, helplessness and vulnerability.
Savoring The Sweetness 
So how can we women, enter into the sweetness of the sixties or for that matter grow older in Grace, beyond uncertainty and insecurity? 
On my 60th birthday I woke up and turned to my Creator, the author of my life. Who else would know the content of my being, the purpose of my life, the state in which I now find myself interiorly, and the direction I should now take to continue and complete my inner journey? 
Psalm 139 helped me perceive my Creator at work (in my life). His workshop was my Mother's womb! He worked with delight, finding there all that He needed to work upon His masterpiece: Me! I watched in quiet awe and admiration, in wrapped attention! He formed each part of me in  proportion and placed it skillfully so as to set His masterpiece on the way to prosperity! 
The word prosperity often comes with the idea of plenty and pleasure inclusive of leisure! "God has blessed me", we say when a person seems to be well provided for, and successful in her life. 
Though material welfare may be part of being blessed, real welfare consists in wellbeing of our body, mind and spirit;  in being a blessing for the Kingdom of God to this broken world.
Though the body and mind decline with age and one can no longer do the things one did once, or at the pace one did, one is surprised with the Life in the Spirit that continues to savor the sweetness of age because one is now more at rest with their Creator. 
Life lessons along the long journey towards sixty taught me what is real and what is counterfeit, what was of value and what was frivolous, what brought pain and brought joy. 
Life Is 'Good' 
I had the joy of celebrating my 60th birthday with my family and loved ones. Surrounded by words of affirmations and affection made me feel young at heart and jubilant in spirit. A huge birthday greeting card with the words "You're not 60, you're 18, with 42 years of experience!" allowed me to see the value of my experience and youthfulness in my calling, because to the Creator I was still His child. 
What more, these words written in bold letters on the greeting card handed over to me by my teenaged niece brought new awareness not only of my new milestone, but also of how I was being perceived, by the young! Indeed, mentoring holds great scope at this time of one's life. In fact I see it now as a debt to the next generation! I see the numerous possibilities now in leveraging my experience to those coming after me and the quality of time that now awaits me towards one-to-one discipleship.
I also now have time for 'me' – learning, listening, loving and seeing life is good. There is a journey I leave behind and a journey I now embark.
I do not know what my tomorrow holds but I do know who holds it – the same God who brought me this far is the same God who will carry me forward. 
A common prayer I now see through new lens is:
God, grant me the serenity to accept the things I cannot change; courage to change the things I can, and wisdom to know the difference.
ABOUT THE AUTHOR
---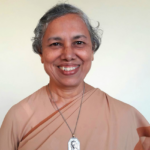 Sister Berlinda D'Cruz is a Canossian nun based in Mumbai, India. Having spent over two decades in formation and administration across Africa and India, she is passionate about helping people through education and mentoring to wade out of oppressive systems in their lives. Sister Berlinda confesses her ordinariness albeit she encases an extraordinary secret: of course I'm in a muddle, but God still finds me delightful!