CALVARY WITH MARY
We are soon approaching the most holy week of the year, the liturgical crescendo, a time for deep reflection and entering into the heart of redemption. It is a journey to Calvary where sin and death are nailed to the Cross in the person of Jesus Christ. It is a place where victory is won and mission is "finished". It is a sanctuary of somber reflections, of great prophecies and power-packed promises. It is a space where time stands still and the soul returns as suffering unfolding – for the sake of Love, for the sake of the ones God seeks and reaches, even as He hangs bloodied between heaven and earth.
When I think of Calvary, I am unable to fathom the extent of the Father's love poured out on the Cross. Intellectually I am brought to its understanding as the liturgy unfolds great revelations. But in my heart, a chasm exists. A great divide between my head and my heart. I wonder how a fragile human like me can enter into such great a mystery.
And then, I turn to her, to the one human I most relate to on this journey of the Holy week, one who teaches me how to enter this solemn mystery – Mary, the Mother of Jesus.
The Favored One
Mary was chosen to participate in this great drama of salvation. It began with her "fiat" and it continued with daily surrender, a daily dying, a daily entering into Calvary. "Be it done to me according to your Word" the virgin had proclaimed. I wonder what it must have been like for Mary to bear God in her womb. I wonder what crushing consumed her spirit as she heard the words from the mouth of Simeon "… and you yourself will be pierced with a sword." (Luke 2:35)
None of us will ever know accurately nor experience in full the depth of the pain and the weight of the cross that Mary bore silently "pondering all these things in her heart" (Luke 2:51b). Mary, Our Theokos (God-bearer) knew well how to bear and carry God, even unto the Hill of Calvary – through faith, and through trust. Mary believed that the "Lord's words to her would be fulfilled." (Luke 1:45). Mary received God's word of assurance "Do not fear, Mary. You have found favor with God!" (Luke1:30). And Mary walked in the high favor of the Most High as His beloved daughter.
Mary could enter into the mystery of salvation history because she first entered into the mystery of Divine love.
This love propelled her to offer her life as a fragrant offering, by no means a comfortable and easy life, but one refined by flames of love. Mary fully participated in the redemption of the world by following her Son all the way unto to Calvary. Mary was favored. Mary was favored and entrusted for the call of the Cross.
And, Mary said "yes"
Journeying to Calvary
Sometime back I happened to hear the song, "Mary, did you know?" by Mark Lowry and Buddy Green. "Mary, did you know that this child you've delivered would soon deliver you?" I would like to ask, Mary, did you know that you would give birth to your firstborn in a stable? Did you know that you would have to flee to Egypt to escape an assassination attempt on your little child? Did you know that you would be a refugee in a foreign country? Did you know that your "yes" to God would lead to the brutal passion and crucifixion of the little baby whom you held close to your heart, kissed and contemplated?
I am awed by the mercy and kindness of God that He doesn't show us the full blueprint of life. I wonder if I would ever take on this call of vocation had I known my own challenging 'births' in unfamiliar places, my own personal fleeing from comfortable places and my own journey uphill where dreams sometimes die and where brutal passion is unfolded through delays and disappointments, trials and tragedies. My own Calvary – this solemn mystery that I too must enter if I want to encounter the risen victorious Lord on the other side of the cross. Like Mary, I am also favored and called to the Cross, for the Cross.
My personal journey to Calvary began at a tender age of twelve. My dad passed away after a lengthy illness and then when I turned sixteen, it was my seventeen-year old brother who disappeared and we never found him. I was on the brink of despair after helplessly trying to find out for a number of years as to what happened. My mother's heart was crushed. And so was mine in more ways than one. But it was on this personal journey to Calvary that I found my vocation, where I encountered the great love of God and where I met our Blessed Mother as a true disciple and trustworthy companion.
One of my most favorite saints, the great Pope Saint John Paul II's life as we know it, was filled with intense suffering from the time he was a little boy. He often alluded to his total consecration to Mary as being the secret of his life. It can be the secret of our life too as we walk with her this Lent to Calvary and consecrate ourselves to her maternal care just like he did – totally yours, Mary. His Apostolic letter on suffering, Salvifici Redemptoris is a treasure. A paraphrase of paragraph #3 tells us that "Redemption came through Christ's sacrifice on the Cross: it came through suffering. Thus, our redemption is directly related to Christ's suffering, and our suffering is linked somehow to our redemption." Yes, indeed, "Our suffering is linked somehow to our redemption."
When we begin to understand the deeper meaning of suffering, it does draw us very close to God.
Suffering strengthens us inwardly and purifies us. It could just be our shortcut to heaven. I don't know the cross that you are carrying today but I can assure you that if you can embrace it for the sake of the Lord whom you love, it will lead you to victory.
Way of the Cross
How do we enter Holy week this year friends? As I write this, my heart aches for Ukraine – a country torn down by war and strife, a country experiencing its own journey to Calvary; a country groaning for redemption and resurrection in the midst of unspeakable suffering. Bombed, shelled and levelled to the ground; millions displaced, families separated, fathers and children estranged. Mothers weeping empty hands, danger and death on every side – if this is not a picture of Calvary , what is?
This Holy Week, perhaps we could shift our focus from our own suffering and turn to Mary, the sorrowful mother whose heart was pierced with a sword for our sake. Instead of asking "Why me?" Let us ask "Why Mary?" Let us learn from her, a woman of silence, who deeply pondered the mysteries of God. Let us walk with her the way of the Cross. Let us allow her to show us what it means to suffer, how to suffer, and how to embrace the Cross on this road to Calvary.
Mary is here to help us trust God, to encourage us to believe that God will fulfil what He has promised even if it feels like a dark cloud hanging over us like it did on that dreadful Thursday night. With Mary, we will find that there is reason to hope. It just might amaze us and give us new sight in understanding this great mystery of suffering. Mary followed in the footsteps to Calvary and beheld her beloved Son hanging from the Cross. In that selfless act she showed us that dying to self never takes anything, in fact it only gets our eyes off of ourselves and onto God; it enables us to turn our eyes also to our neighbor in loving, selfless, and generous service.
The fruit of our relationship with God shows in our love and service to others.
I want to conclude with this beautiful hymn that I love to ponder. Stabat Mater Dolorosa (Stood the Sorrowful Mother) May it move your heart to unite with Mary as it does mine.
Happy Holy Week dear friends! Press on! Take heart! The bright light of Easter waits to flood you with joy.
ABOUT THE AUTHOR
---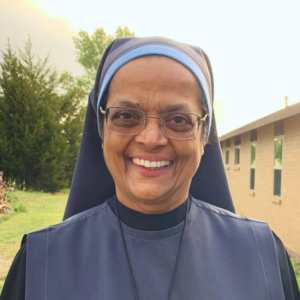 Sister Rita D'Souza has been serving in the Catholic Charismatic Renewal Movement since the tender age of 19. She received a call to religious vocation in 1985 and joined 'Disciples of the Lord Jesus Christ', a Franciscan Charismatic Religious Community in the United States. Sister Rita's raw passion for the Word of God and her heart for evangelization, unfolds through her teachings, where she captures beautiful stories bringing her listeners to an encounter with Jesus, the Light of the World.